Convoy Deck is a high-performance blast mat product line that absorbs the extreme impact and shock from an IED that would normally transfer directly into an occupant's feet and ankles. These energy-absorbing panels are engineered to reduce tibia loads during underbody blast events, reducing the chances of lower limb injury and increasing blast event survivability. SKYDEX has fielded over 125,000 blast mats with 10+ years of experience on leading vehicle platforms that meet STANAG 4569 and have been proven to withstand the toughest military environments.
---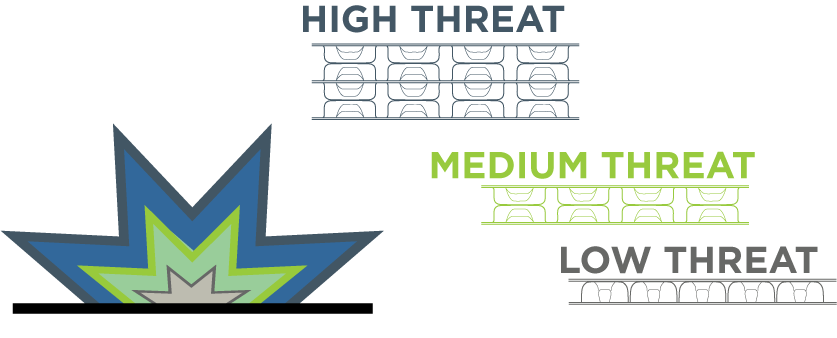 SKYDEX is the go-to solution for high-energy threat mitigation from underbody mine blasts. With more than 23,000 vehicles equipped with Convoy Deck, it is the most widely-used blast mitigating flooring solution in the world. Available in a range of solutions designed around the desired level of protection and available space in the vehicle, SKYDEX brings a solutions-based approach to integration and an in-depth understanding of local effects on the occupant during mine blast situations.
---
At a Glance
An Ideal Solution For:
Vibration Attenuation
Impact Mitigation
Protective
A proven solution for impact and blast mitigation to reduce max tibia loads, protecting lower limbs and reducing the occupant return to field time
Multi-Impact
Quick rebounding technology offers protection for all phases of a blast event and repeatable performance over the life-cycle of the product
Highly-Durable Materials
Durable, long-lasting and low maintenance materials that meet FMVSS302 and all MRAP environmental requirements with an industry-leading non-skid top surface
Easily Integrated
Simple installation with no change to existing vehicle ergonomics or design
Customizable
Expertise to tailor a solution to meet the STANAG 4569 desired level of protection in available vehicle space
---
Results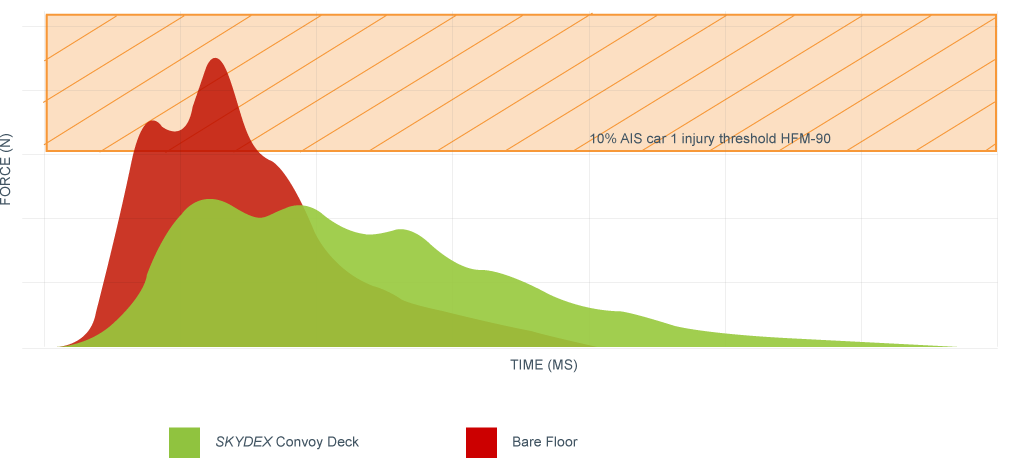 In live blast testing, the Convoy Deck provided a 71% reduction in lower tibia load compared to the bare floor.
PROVEN PROTECTION
SKYDEX has fielded over 125,000 blast mats with 10+ years' experience on leading vehicle platforms that meet STANAG 4569, including RG33, RG31, Amazon, PARS III, MaxxPro, RG33, RG31, Caiman, Stryker OEF, Stryker DVH, Cougar, MATV, FMTV, HEMTT and Bushmaster.