The SKYDEX Difference
Every SKYDEX innovation is engineered to maximize the performance of your product. Protecting Things That Matter.
No other impact or cushioning solution offers the precision, durability, and tunability that our proprietary technology delivers. We leverage our technical expertise and keen understanding of your challenges to develop customized applications that deliver long-term value.
Proven, Superior Performance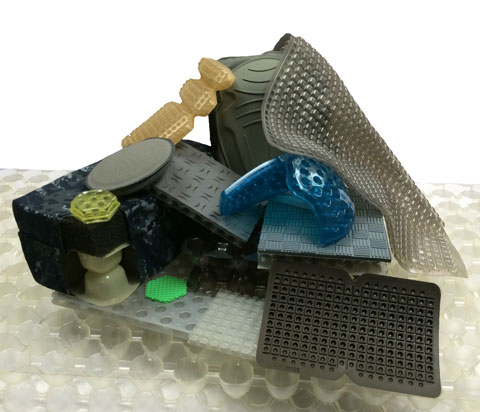 Our technology has been proven to endure and excel in the most demanding commercial, military, athletic, and consumer environments. There are many factors that contribute to SKYDEX being able to consistently outperform the competition:
Deep expertise: We combine our broad and deep understanding of impact and cushioning technology with a hyper-focus on your specific needs to provide the optimized solution.
Superior material: Our principal raw material, thermoplastic polyurethane (TPU), provides greater elasticity, abrasion resistance, and versatility over a broad range of temperatures, mechanical properties, tear strength, and contaminant resistance.
Proprietary geometries: Our unique shapes allow us to efficiently and effectively utilize virtually all of their thickness to mitigate impact, distribute pressure and provide comfort.
Precise customization: We partner with you to tune our technology to your needs and conduct exhaustive testing to ensure you always get the best solution.
Compelling Attributes
Long lasting durability, enduring multiple hits while consistently delivering the same peak performance through hundreds of thousands of compressions
Open airflow to mitigate heat build up
Low profile to maximize utility and do more in less space
Easy cleaning
Completely recyclable
Resilient against nature's harsh elements
Process Roadmap
01

Concept

On every project, we function as an extension of your team. Our engineers are experts in impact and cushioning and will partner with you to understand your product's needs, share our expertise and work collaboratively to give you a competitive edge in your market. Our in-house testing facility allows us to evaluate and benchmark your product to understand where enhancement opportunity and competitive advantage exist. Utilizing our onsite prototyping capability, we can rapidly turn ideas into a physical part enabling you to fully see, feel and experience the SKYDEX difference.

02

Optimize

After we identify how SKYDEX technology will be best applied and integrated into your product, we fine-tune our technology so that it best complements your design. Ultimately, our goal is to ensure we provide you the most precise solutions that will deliver peak product and user performance. We then bring your vision to life through our network of trusted contract manufacturers.

03

Educate

We leverage lab results, industry-specific testing and our engineering and product expertise to help you educate your market on the remarkable benefits of being protected by SKYDEX technology. We partner with you to ensure that your customers know they can expect nothing but the very best and most unique in impact protection and comfort.

04

Innovate

We go above and beyond to make every product we produce better than the one before it. We collaborate with you to expand and enhance your complete product offering so that together, we stay ahead of the market as the leading impact and cushioning product solution available.