The Impact Challenge
Being in an explosion is one of the most violent impacts a human body can ever be subjected to--heat, shrapnel, and over-pressure hit the body with visceral force. For highly trained personnel such as military EOD (Explosive Ordnance Disposal) operators, bomb technicians, humanitarian deminers and SWAT teams who routinely put themselves in danger of experiencing an intense blast, bomb suits are imperative for survivability, smooth mission completion and peace of mind. We must protect those who risk their lives for the safety of our communities and country, with the best protection possible.
In recent years, Med-Eng, a brand of The Safariland Group and the global leader in suits and helmets for bomb disposal, tactical operations and demining, had been searching for a high performance impact-mitigating technology to further enhance its protective systems. For over 30 years, Med-Eng has set the universal standard for bomb suits, and is trusted by defense forces, public safety and humanitarian demining agencies in 100 countries globally. The Med-Eng team is relentless about testing and specifying the materials that go into its protective gear. They needed a solution that would provide the highest level of protection to the technician and be durable enough for the extreme requirements of their products.
The SKYDEX Solution
After exhaustive testing, SKYDEX technology was selected as one of the leading solutions to meet Med-Eng's needs, as part of a protective system. Because of our ability to fine-tune our technology, we delivered Med-Eng a material solution that would meet their specific range of extreme impact and pressure mitigating requirements. SKYDEX technology combines maximum performance with being thin and lightweight, which translates to a body protection system that provides superior capabilities during a blast event. An added benefit of the unique SKYDEX impact absorption technology is its ability to transfer heat from the user through the air cavities within its structure.
Through a close and collaborative development process, we partnered with Med-Eng to develop the necessary technologies to enhance various components within their suits. Our customized solution also meant easy integration with Med-Eng's other protective technologies to ensure that together, the final product lived up to their steadfast commitment to providing the optimal balance between outstanding protection and flexibility for the toughest EOD missions.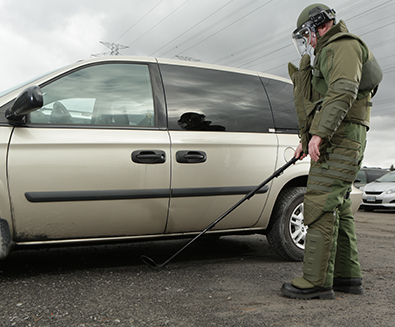 A PARTNERSHIP FOR PEAK PERFORMANCE
Not only was SKYDEX able to offer technologies that contribute to providing maximum protection for an intense bomb explosion, we also partnered with Med-Eng every step of the way through development to ensure that each SKYDEX component met all the required performance properties. Together, we were able to find solutions to the impact and pressure mitigation needs for select elements of their protective equipment to assure that the user can achieve their mission in the safest and most effective way possible.