Key Highlights
Installed as shock mitigating technology on over 6,000 marine crafts to protect against repetitive shock (RS) and whole body vibration (WBV)
Superior impact and shock mitigating capabilities
Recognized as the "Most Innovative New Product" by the National Marine Manufacturers Association
Suspension decking for RHIBs, RIBs and other planing craft that protects against severe shock events, vibration and impact loads
Challenge Faced
Wave slam causes extreme trauma and exposes the human body to a rugged shock environment. In a recent survey of Special Operations craft operators, 62% reported an injury they had incurred on the water. Teamed with days lost to hospitalization, sick leave, limited duty and loss of physical conditioning time, this growing issue demands immediate attention. With ever-increasing marine craft speed, the potential of experiencing significant bodily harm is only getting worse. Wave slam causes constant vibration that is transferred through a boat's deck to the bodies of marine craft occupants.
The resulting fatigue and often-chronic injury to the lower back, knees and neck have an adverse, cumulative and negative effect on the body. It also greatly affects one's ability to focus on important tasks while on the water. In order to try to reduce these repetitive stresses, naval architects have attempted, but failed to develop boat designs that can truly mitigate the negative effects of wave slam on marine craft operators and occupants. Why? The unpredictable and inconsistent marine environment makes it extremely difficult to collect meaningful data about the extent of the problem, which has made identifying potential solutions a challenge.
Solution Found
Delivering on our mission of Protecting Things That Matter, in 2003 SKYDEX began manufacturing a cutting-edge decking panel for use in marine shock-absorbing applications. This new and innovative impact technology attracted the attention of the US Naval Special Warfare Command. They approached SKYDEX with an important request: the need for an improved deck matting system for its small surface craft to protect their most valuable assets - their people. The suspension deck need was especially urgent for daily situations where Navy SEAL operators were required to stand during transit in rough sea states and weather conditions. SKYDEX Boat Deck technology was successfully tested by the US Military's Special Operations Product Development Group at the US Army Natick Soldier Center and delivered superior impact mitigation performance in operational testing on high speed Navy boats.
During testing, SKYDEX Boat Deck reduced peak g-forces by 90% as compared to the Navy SEAL's incumbent material. By significantly reducing shock transfer and vibration loads, our high-quality, slip-resistant decking technology offers increased comfort on the water and optimized operational effectiveness. In the harshest marine environments, it minimizes both risk and injury for those riding in high-speed, rigid-hulled inflatable boats (RIB or RHIB) and other watercraft. Engineered to provide maximum impact performance in the thinnest profile, SKYDEX Boat Deck absorbs 60% more impact than common foam cushioning decking, and its open airflow design prevents freezing and hardening under normal temperature variations. The surface of Boat Deck is also designed for an extremely high degree of traction, even in wet and unforgiving conditions.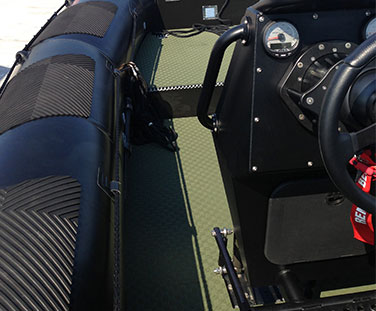 Engineered For Peak Performance
SKYDEX Boat Deck has proven to significantly mitigate shock levels and severe impacts while also providing a stable walking surface for marine craft occupants. With reduced force and increased comfort on the water, SKYDEX high-performance technology optimizes operational effectiveness and better protects occupants of high-speed craft against the proven factors that lead to injuries. As further testament to the performance of our technology, several of the world's foremost boat builders and manufacturers, including Willard Marine, USMI, SeaArk, Aluminum Chambered Boats and Zodia Milpro, now install SKYDEX Boat Deck in newly-made marine craft as well as when retrofitting existing boats. Available in four product types based on the desired level of deck coverage and customization required, SKYDEX Boat Deck Max Coverage, Helm, Custom Helm, and Personal, all feature our proven shock-mitigating technology. Contact us to find out more about how the SKYDEX Boat Deck product line can maximize your performance and help you in Protecting Things That Matter.