Key Highlights
Superior support, comfort, and clean ability over standard mattress products
Durable: Product Life-cycle far exceeds standard mattresses, reducing unit replacement cycles
Modular Construction, easy-to-clean design improves sanitary conditions and enables treatment of infestations
100% recyclable components, eliminates expensive land fill costs
Made in the USA
Challenge Faced
In any collective training environment, barracks mattresses (though they largely go unseen until soiled), are a key element of military life. Standard cotton duck/coil mattresses in place at military training facilities are exposed to a revolving door of trainees over the various training cycles each year. These mattresses are continually exposed to bodily fluids, food spills and ambient moisture depending on location. This eventually leads to mattress degradation, reducing trainee comfort and creating unhealthy collective living conditions.
As a result, military training institutions must replace mattresses frequently dependent on soiling events, moisture, or infestations. Already burdened the short life-cycle of a standard mattress, installations must also pay a hefty landfill disposal fee for each mattress in most cases. The SKYDEX mattress eliminates that cost.
Subsequently, SKYDEX was asked to provide a potential solution to address the needs for extended life mattress, that could be cleaner and a "greener" solution for disposal eliminating disposal costs.
Solution Found
Recognizing the opportunity to create a product with superior durability, easy-to-clean components and with an open airflow design utilizing recyclable materials, SKYDEX began development of the next generation of barracks mattress.
Using proprietary SKYDEX Cushioning Square technology, SKYDEX developed a modular mattress system that offers unmatched durability and support, greatly outperforming traditional foam and spring mattress components. With a 10+ year life cycle based standard lab testing, SKYDEX's recyclable mattress solution not only lasts longer than traditional mattresses but is fully cleanable and disassemble. This greatly reduces the impact on local landfills and reduces the costs associated with frequent mattress replacement.
Additionally, the modular, easy-to-clean design, periodic mattress maintenance can become part of the unit training cycle leading to an improvement in barrack hygiene and maintenance. Several National Guard Regional Training Institutes (RTI) have recognized this aspect of the product and have either fully procured their requirement or are in the process of doing so.
The durability of the SKYDEX Barrack Mattress reinforces the superiority of the product and its thin profile is designed to distribute body pressure to maximize comfort and support without the need for a bulky and heavy mattress. This is especially important in the deployed, FOB environment.
Barracks Mattress Performance Chart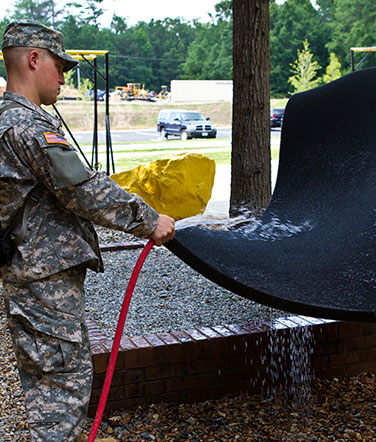 Engineered for Peak Life Cycle Performance
SKYDEX Barracks Mattress can improve how soldiers sleep and subsequently how they perform whether in training or deployed environments. SKYDEX mattresses are fielded worldwide and are an integral part of the US Army Force Provider (FP) program which is guided by the mission:
"[To provide] Army personnel and other forces as directed by the Secretary of Defense with a high quality deployable base camp to support expeditionary missions; develops, integrates, acquires, fields, sustains, and modernizes base camp support systems to improve the warfighter's fighting capabilities, performance and quality of life."
The Berg Companies, which provides complete camp solutions, use SKYDEX Barracks Mattress in its remote site packages in support of the FP and other programs. Mike Wollan, Supply Chain and Operations Manager at The Berg Companies, commented that the removable covers make the mattresses easier to clean and "much more efficient for soldiers."
By offering a highly cleanable, sustainable and durable solution that stands up in the harshest environments, SKYDEX has engineered the next generation of mattresses. The SKYDEX Barracks Mattress is an optimal solution for any facility where there is high turnover in mattress users.
FEMA, emergency, and homeless shelters can all benefit from the mattress characteristics. Contact us at 866.732.7462 to find out more about the SKYDEX Barracks Mattress and how our technology can meet your cushioning needs.